30 PCs Engraving Drill Bits
These engraving drills are specially made to make precise or small jewelry, necklaces, earrings, pendants, bracelets, shells and more. It is also suitable for drilling rocks, ceramics, porcelain or stones. It comes in a plastic box with 30 different bits for different use. Suitable for use with manual drills, flex shafts and dremels.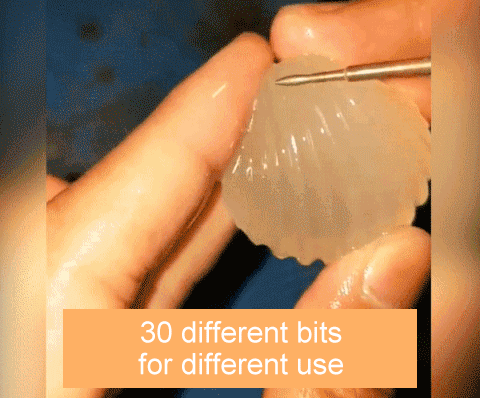 FEATURES
Set of 30 pcs. diamond drills - 1/8 leg

Assorted shapes and sizes include: ball, cone, cylinder, needlepoint, and conical

Fits drills, flexible shafts and dremel. Used by jewelry designers for drilling clean holes

Drilling sea glass on the beach, shells, rocks, marble, etc.

For making earrings, pendants and bracelets.

SPECIFICATIONS
Material: Diamond
Diameter: 3mm/0.12"
Case: 45mm/1.77"

Dimension: length 145mm/5.71",width 60mm/2.36" and height 19mm/0.75"

PACKAGE INCLUDES
1 SET OF  Engraving Drill Bits ( 30 PCs )